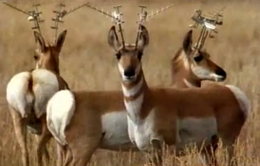 Antennalopes are North American Antelopes that evolved and got metal antennas instead of antlers. They roam - obviously - in North American plains, or prairies, constantly on move migrating to places were radio signals are weakest. Their antennas realay radio signals, so engineers use them to create transcontinental radio networks. They appeared in a 2003 ad for Nextel long-range walkie talkies.
Ad blocker interference detected!
Wikia is a free-to-use site that makes money from advertising. We have a modified experience for viewers using ad blockers

Wikia is not accessible if you've made further modifications. Remove the custom ad blocker rule(s) and the page will load as expected.